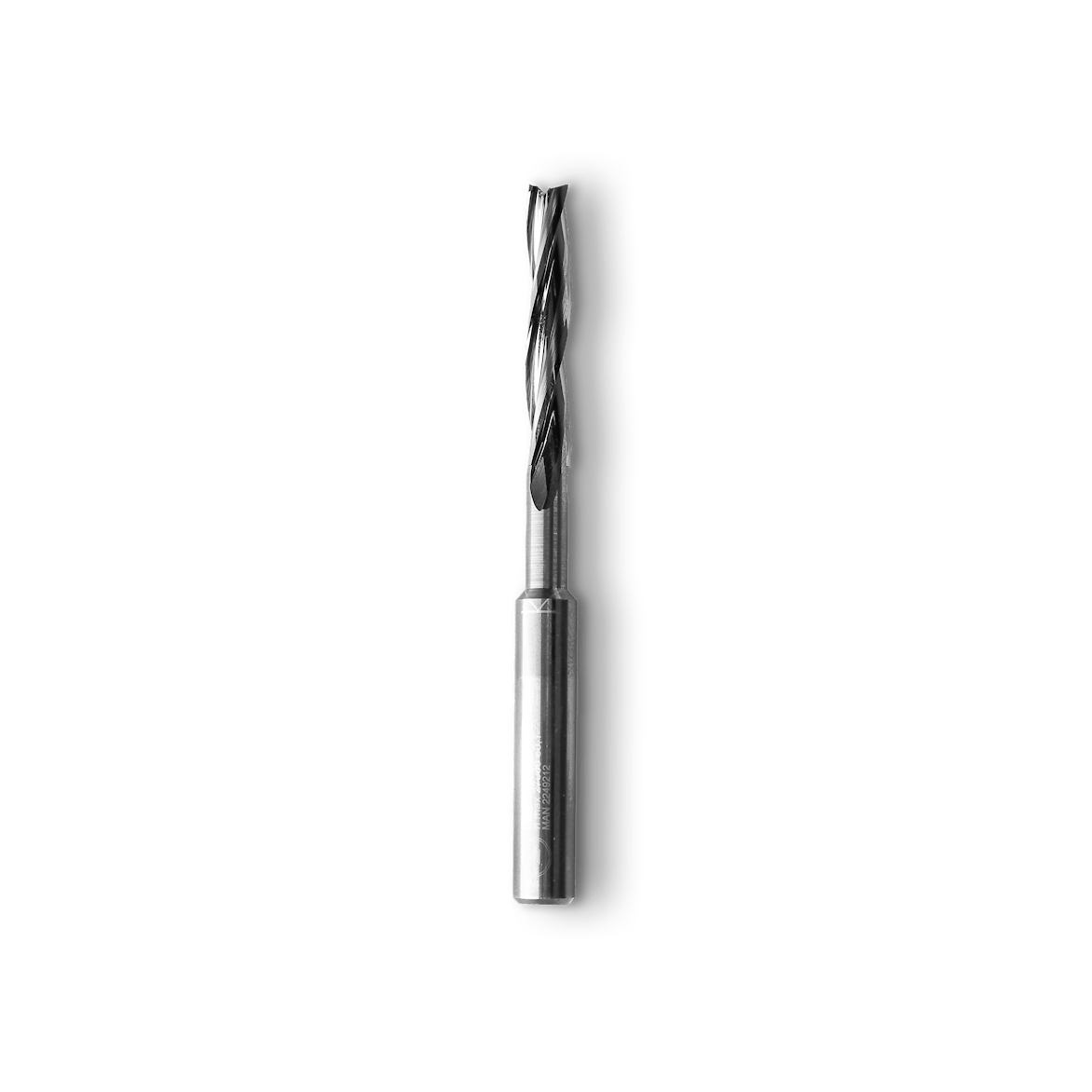 6mm X 30mm Up-Spiral Flat Router Bit
30 mm cutting length plus a clamping neck enables cutting along Origin's full Z-axis travel
3 flutes make for a quieter cutting experience and longer service life
Designed for high feed rates with good cut quality in a wide range of materials
Product ships within 3-7 business days
Shipping cost is calculated in the checkout. Delivery time and cost vary base on your location.
6mm X 30mm Up-Spiral Flat Router Bit - SF1-8-6F3
Product Overview
This 6mm bit with 30mm cutting length and a clamping neck lets you use Origin's full Z-axis travel range. Three flutes offer advantages when cutting a wide range of materials, from foam to hardwood. The increased depth of cut makes your Origin projects more efficient without compromising cut quality or stability. The shank is marked for accurate collet clamping to save time when changing bits.
Overall Length: 80 mm

Shank Diameter: 8 mm

Cutter Diameter: 6 mm

Cutter Length: 30 mm

Usable Length: 45 mm

Geometry: Upcut, Spiral, 3 flute

Material: Solid Carbide
---
Is this router bit compatible with Origin?
Yes, this bit's shank will fit in Origin's 8 mm collet.
What is the maximum cutting depth?
The 6mm X 30mm Up-Spiral Flat Bit can cut to a maximum depth of 45 mm.
How can I maintain my bits?
Resin, sap, and adhesives will build up on your cutter edge over time. This generates more friction on your cutter and accelerates edge degradation. Keep your cutters clean with a small brass brush, citrus cleaner and a rag.
What is the best spindle speed, feed rate, and plunge rate for this router bit?
You can find a complete table of cut spec recommendations for this bit here.