Furniture
Carpentry start-up manufactures lamps with Origin
---


kln.swiss is a design and fabrication studio based in Zimmerwald, Switzerland. A blend of traditional inspiration and modern techniques is central to everything these young entrepreneurs do. Their lamps are largely composed of reclaimed scrap wood, sourced from the surrounding areas: "We pick up a lot of our wood directly onsite, for example from old farmhouses that are being torn down," explains Kim, a carpenter with the joinery. "That's how we give the wood a second life."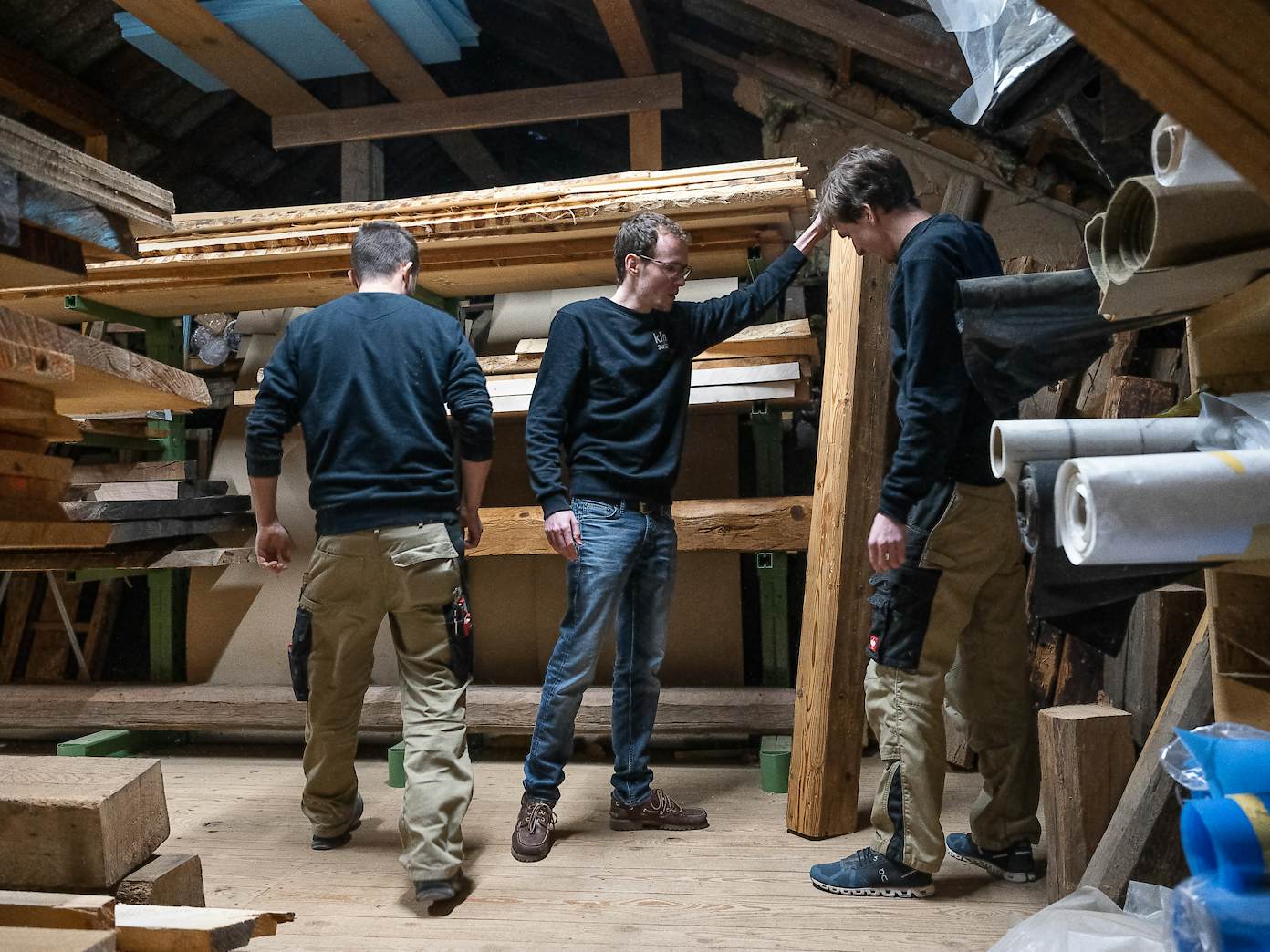 kln is run by two brothers—Kim and Nico Muhmenthaler—and their cousin Luca Oberli. They explore their distinct vision in a workshop in Zimmernwald, near Bern. Here they produce custom furniture and home decor—all with a distinctive "Swissness". 
The beautiful lamps and custom-made products are much more than everyday objects that merely fulfill a function. They invite you to marvel and experience. In short: kln.swiss is a company in which a modern and flexible tool like Origin fits perfectly.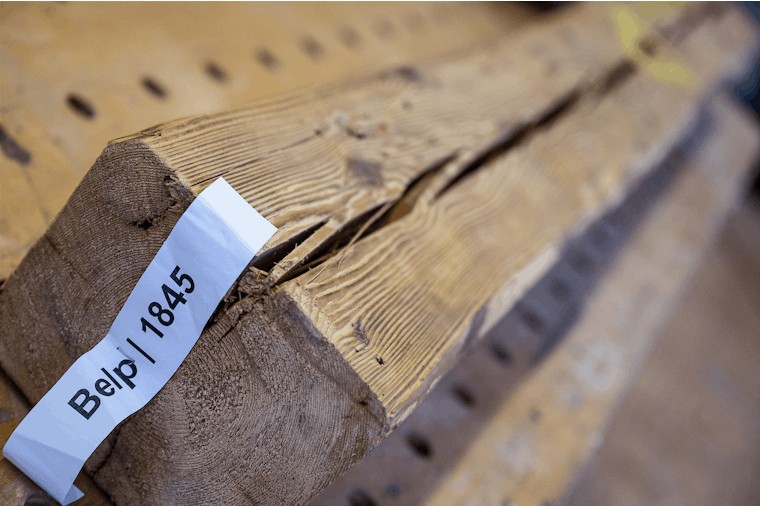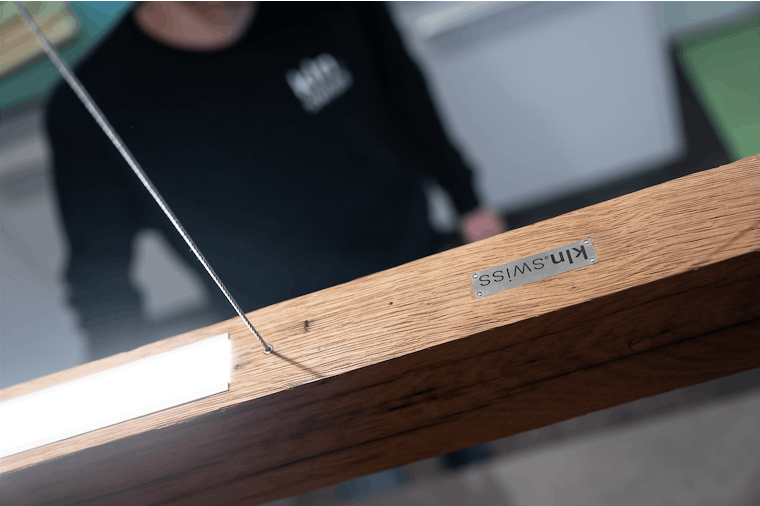 ---
"When you think about what Origin can save for your shop, it's basically a free investment."
---
Unique and individual favorites
"The first time I heard of Origin was probably four or five years ago," the prospective master carpenter Kim recalls. At that time, the tool was still only available in the US. "When it finally became available in Europe, I ordered it directly." This makes Kim one of the first Origin users in Switzerland. "I was totally hooked from the first minute," he says. It's no wonder that Origin is now an integral part of kln's manufacturing!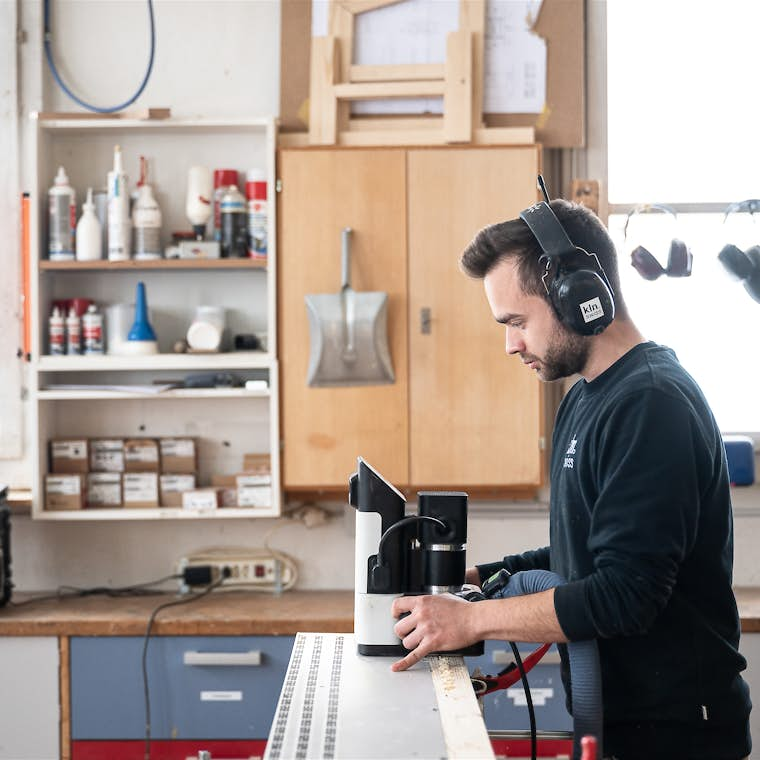 kln uses Origin in their joinery production, for quick prototypes during design periods, and on custom one-off pieces. Since adding Origin to their studio, Kim Muhmenthaler finds that he no longer needs to sit at the computer for long periods of time to create complicated files when designing new pieces.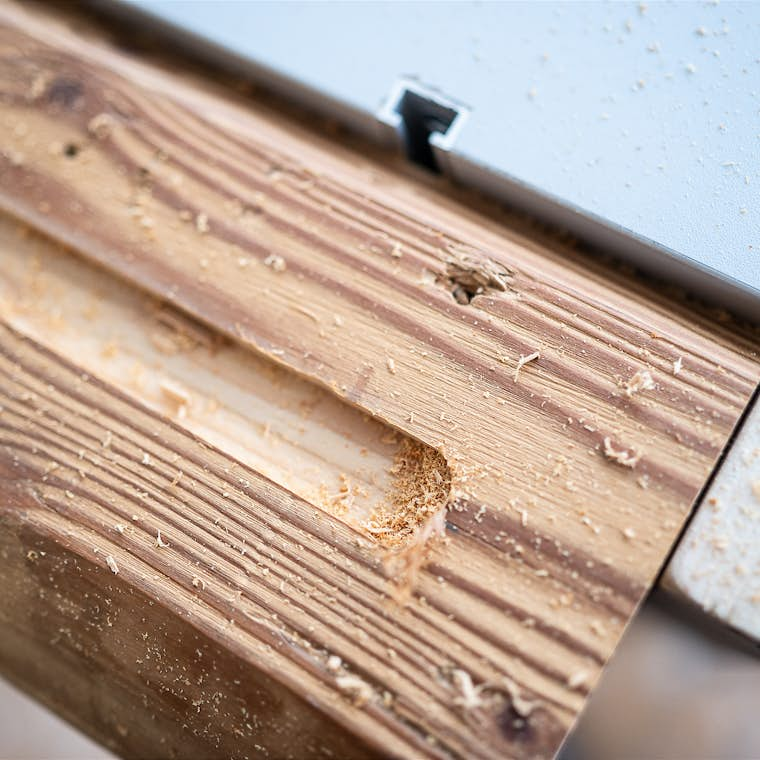 Now, he begins the design process at the workbench with Origin. "Before, I always had to build elaborate templates for our routers, which took a lot of time," he says. "Even that process is much easier with Origin now."
Staying close to the customer
Kln relies on innovative technologies not only in manufacturing, but also in interacting with their customers. Nevertheless, Kim emphasizes that personal networking is still an essential part of customer acquisition. "We host customer events very often. That's really the easiest way to draw attention to ourselves on a very regional basis."
But in order to become known beyond the borders of Bern, online marketing plays an important role for the still young company, which is why they regularly post on social media.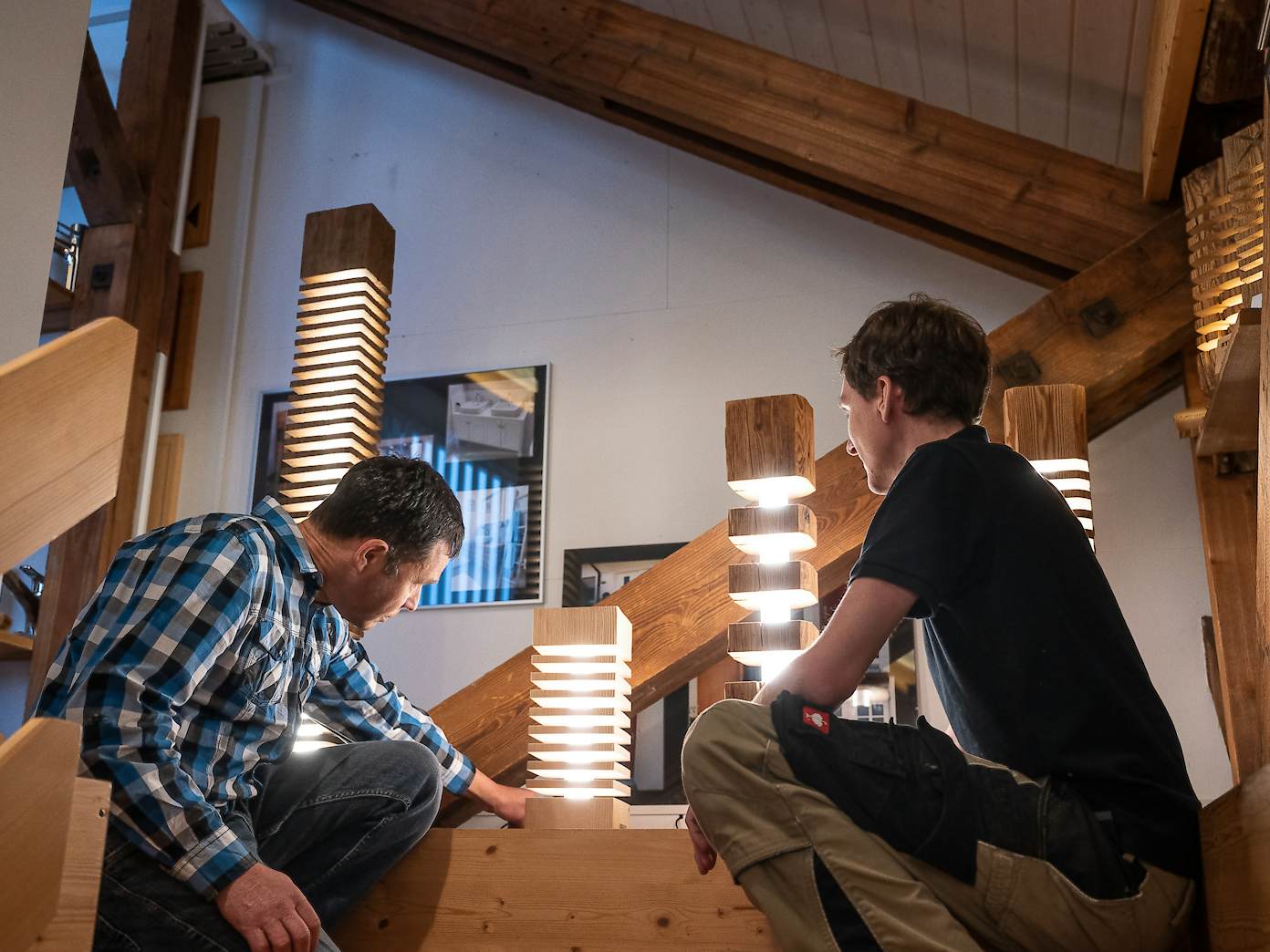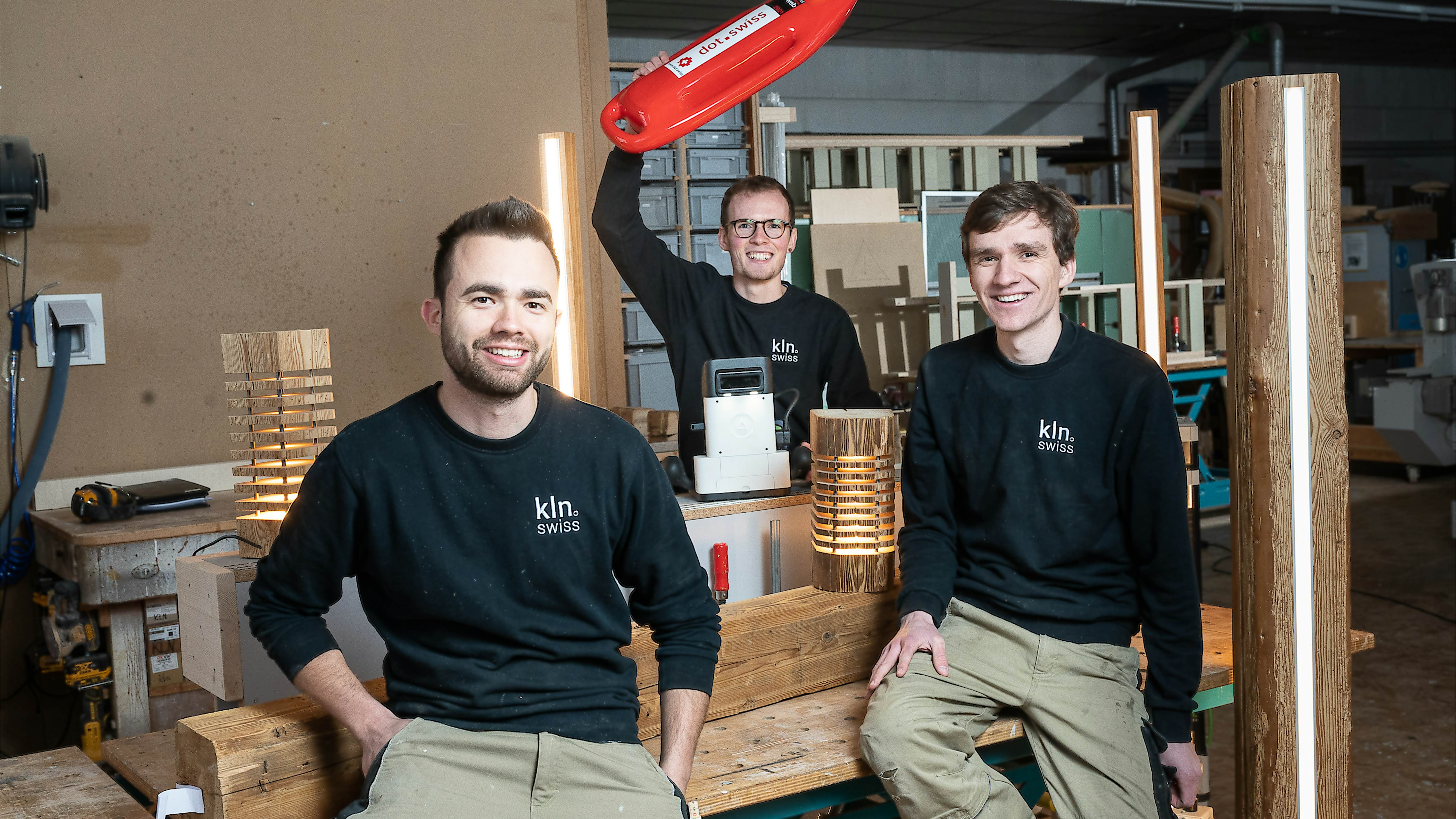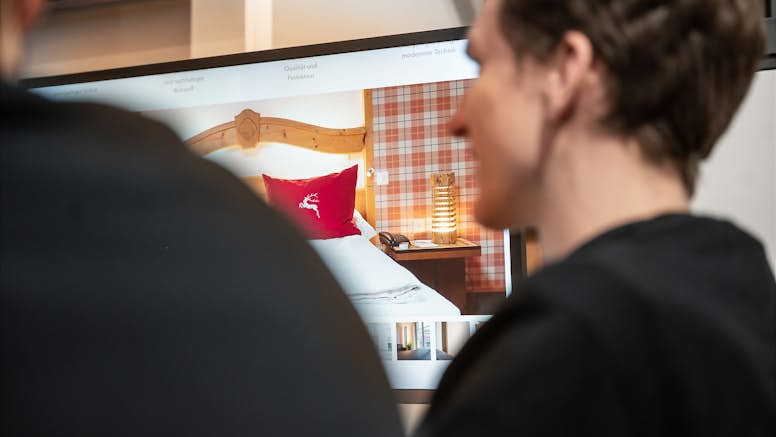 What may be unusual for other joineries or carpentry shops has long since become a classic marketing tool for Kim, Luca and Nico. The same applies to their website, where they not only provide insights into their company and services, but also present and sell their products. In addition, one can find blog entries, podcasts and videos there.

Here, too, the young entrepreneurs have done everything on their own—and with success! In 2021, the website was awarded the Best .swiss Web Award.
A Shining Example

There are five lamps that are a permanent part of the shop's product line. In order to be able to produce them economically in small runs, Kim uses Origin in combination with Workstation and his own equipment. 
"For each processing of the different lamps, I have a fixed, already prepared workstation. So all I really have to do is clamp my workpiece and I can start immediately." His three prefabricated workstations allow him to use Origin even more productively. 
Once he's finalized his design files, he can cut his projects again and again with ease and a high level of precision. Kim mainly uses Vectorworks during his design phase. "I create my 3D model and either export the data directly via a plugin or use Fusion 360 software to convert my drawings into a cut-ready .SVG file." Kim is sure that many software manufacturers will also offer direct .SVG export in the future, because: "Origin is, after all, becoming more and more popular."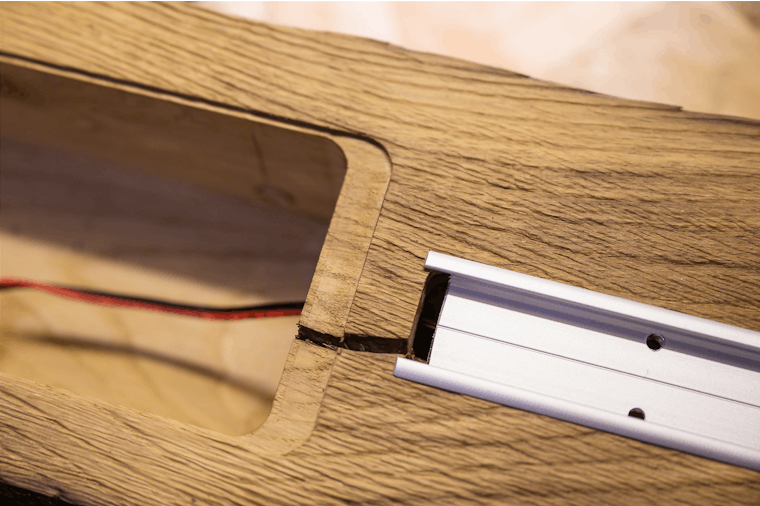 Thanks to Origin, the three co-founders can produce their lamps in small batches of five to ten units in no time at all. "We're still a start-up at the moment, and Origin is just perfect for the kind of work we create. A large stationary CNC would not be profitable for us at all."
Origin is even more important for the one-offs that kln offers, he says. "We really rely on the quick customization and flexibility of the tool. The effort is very low, and the accuracy is absolutely perfect," Kim says. "When you think about all the things you can do with it, it's basically free."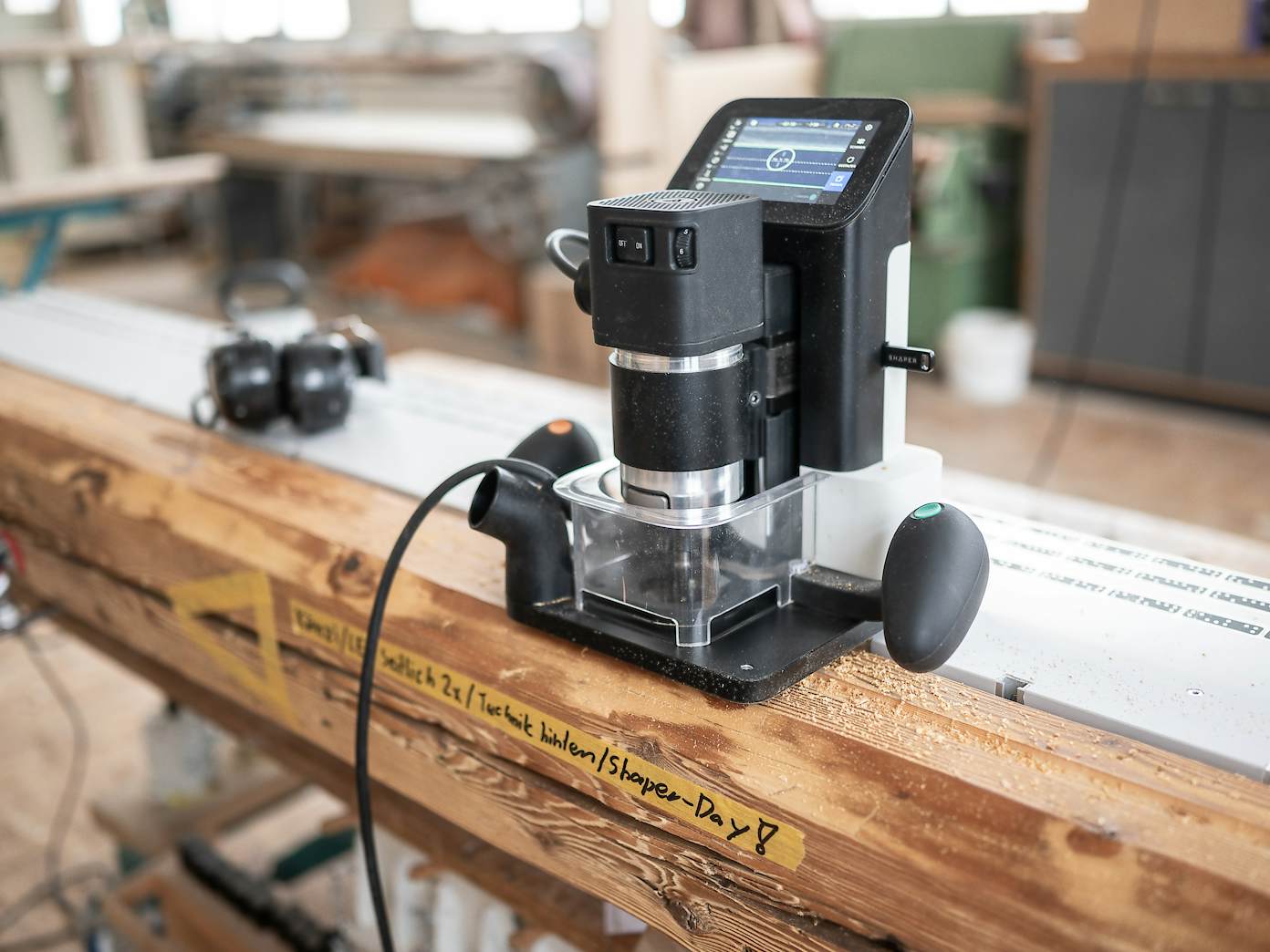 From regional to international
Whether it's for prototyping and one-offs or the day-to-day creation of cut-outs and recessing of fittings, Kim believes Origin is a real selling point for almost any joinery studio—whether they already have a stationary CNC or not. "It's also so easy to use and so intuitive that even a first-year apprentice can use it easily after two hours of training."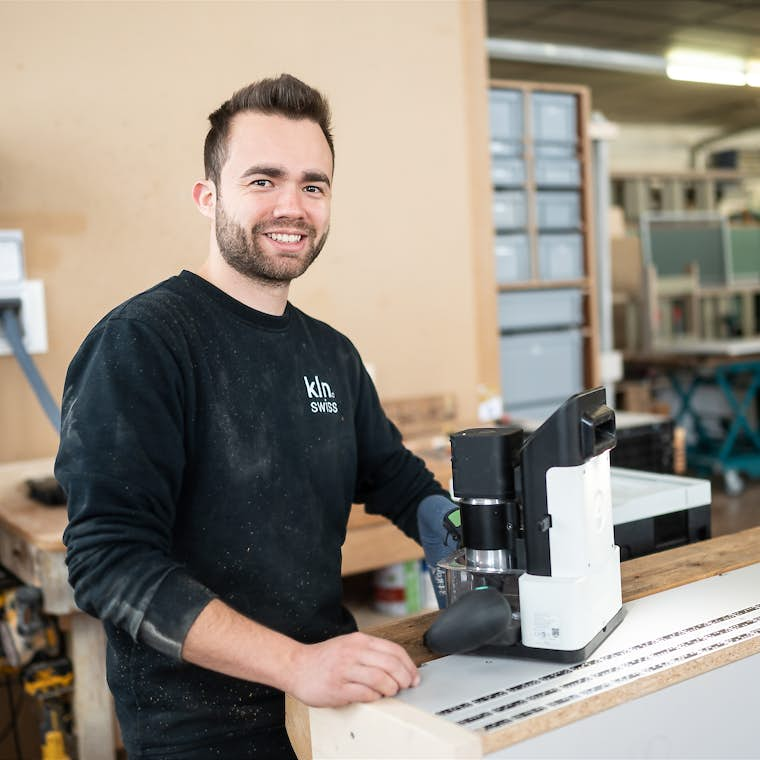 Kim, Luca and Nico look forward to a bright future. "Of course, we want to grow and expand our business." More projects are already in the pipeline, and soon they want to include indirect sales in their business so their lamps can also shine in other showrooms.