Shop Notes
Meet Christoph Noe
---


Origin playing its part
Christoph Noe is a designer, hobby musician and passionate guitar maker. In his workshop in the downtown Munich, he manufactures electric guitars and basses under his On Guitars brand, designing and building custom instruments to meet his customers' needs. From the wood selection all the way down to the last tuning adjustment, Christoph  does everything himself.
---
---
Christoph is able to guarantee his customers' demand for adaptability and the highest quality not only thanks to his many years of experience, but also thanks to his work with Origin: "Years ago, when I first heard about a hand-held, digital router, I immediately had a 'must have' feeling," he recalls.
Since then, he says, his workflow has changed dramatically and the tool has become an irreplaceable part of many operations. "I use it primarily to achieve extremely high precision in contours, pockets and other milling operations. It has become part of my machine orchestra, and it is now impossible to imagine the workshop without it."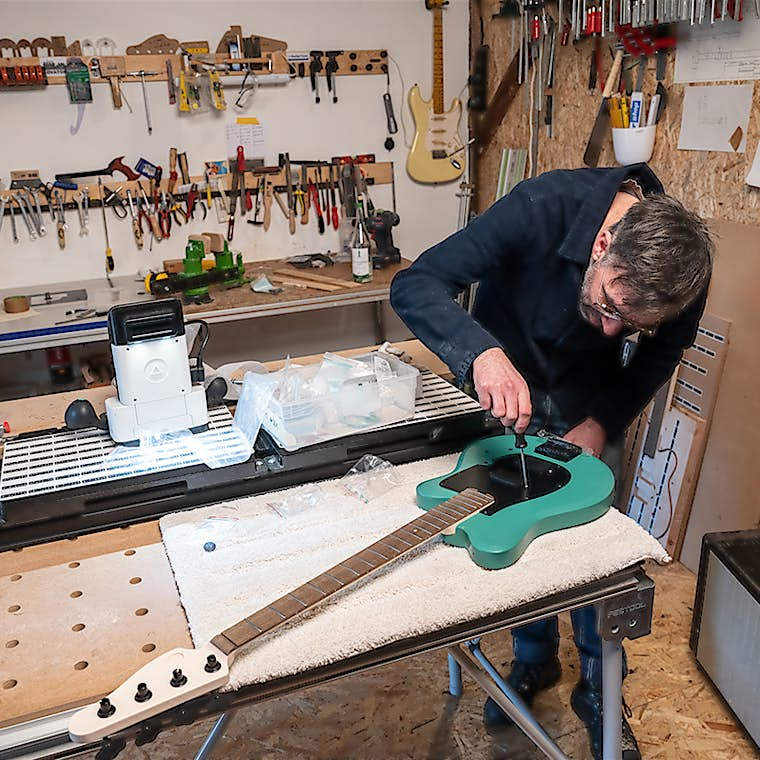 Design sets the tone
Even Noe's model names are musical. He names his basses and guitars after bird species: there is the Jackdaw, the Starling and the Finch. Of course, Christoph also plays guitar himself as an amateur. Ever since he started playing bass in a band as a teenager, guitar building has become a part of his life. It's a passion that he's turned into a profession with his brand On Guitars.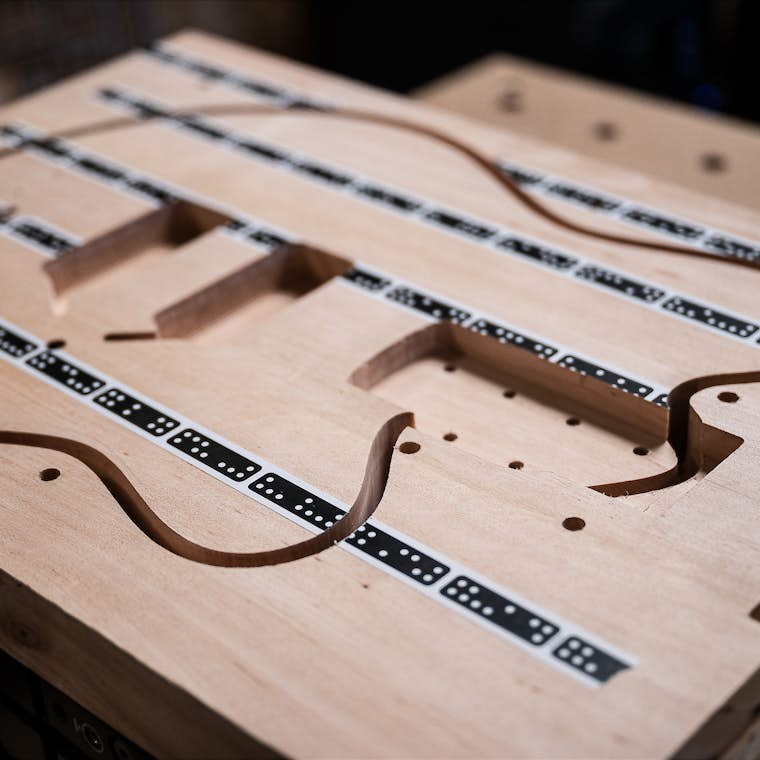 "The guitar building business is not my main job, but it just gives me an insane amount of satisfaction," Christoph says. He loves the connection between digital design, product design and the hand-building process. "I don't see myself as the classic guitar builder either. I'm more of a tinkerer and designer." This is one more reason why Christoph values Origin so much. With it, he can transfer his quite complex drawings and designs very precisely to the workpiece, with CNC quality precision.
Christoph's design language is characterized by a high level of creative quality and carefully selected materials. "There's nothing nostalgic about the guitars I build or insanely fancy. I like to keep things simple. I want the instrument to come across as honest on stage, not gimmicky."
---
Want to learn more about how Origin + Workstation can take guitar building to the next level? Then come to the GUITAR SUMMIT in Mannheim from September 9-11, 2022 and meet Christoph and the Shaper Team live.
---
Evolution of luthiery
Because of the flexible possibilities Christoph has with the Origin + Workstation, he also dared to do something he had in mind for a long time: his first bass model called Pitpit. Like several guitars before it, this model was designed in CAD with Origin in mind for the production stage.
Because a bass neck is significantly longer than a regular guitar neck, Christoph needed to expand the dimensions of his workspace. "I was always thinking about a larger Workstation, so I came up with the idea of just combining two Workstations." Firmly mounted by aluminum profiles and legs to prevent tipping forward, they're a natural fit for Christoph. "It's really like an inseparable duo and an absolute gamechanger for me. I don't even remember what it was like, working with just one."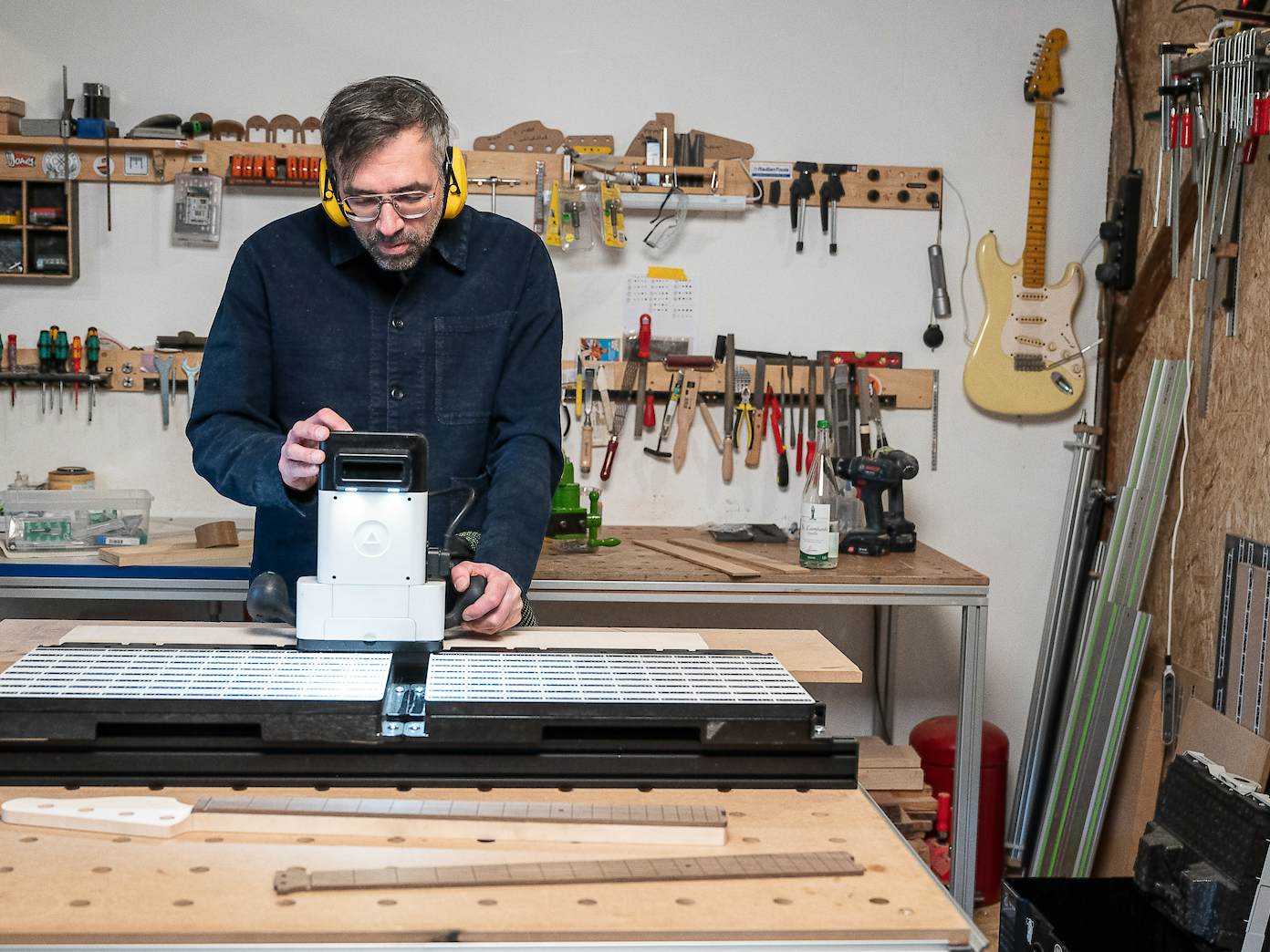 Confidence in the process
Working economically is a critical factor in Christoph's small production of five to six guitars per year. Origin helps him save time and money. "I used to need a lot of templates made of MDF to solve certain things — a different one for each pickup. That's eliminated now with my digital templates." He says the quality of his work has also improved, thanks to cleaner cut edges and fewer burn marks. Origin also gives him the confidence to make more things himself, experimenting and thus increasing his abilities. "The nut for this bass, for example, it's milled from brass. And things like that, even in a very small number of pieces, I can make so easily myself, with top quality and the highest precision."

What convinces him most is the accuracy when routing the very fine fret slots, which he can do much more efficiently thanks to Origin's Auto Mode.  "I used to break three router bits on each fretboard because I just couldn't do as constant a motion manually as Origin can. With the 0.6mm router bit I'm using right now, I've probably routed 20 fretboards and it's still going strong."
Craft redefined
Christoph has also learned a lot about building guitars thanks to a good network and his online community.  "The fact that I loaded the jig for the neck profile on ShaperHub, for example, was in order to help give back to the community that's helped me find my way." Today, he's the go-to guy for many other members of those communities, including when it comes to using Origin to build guitars. 
---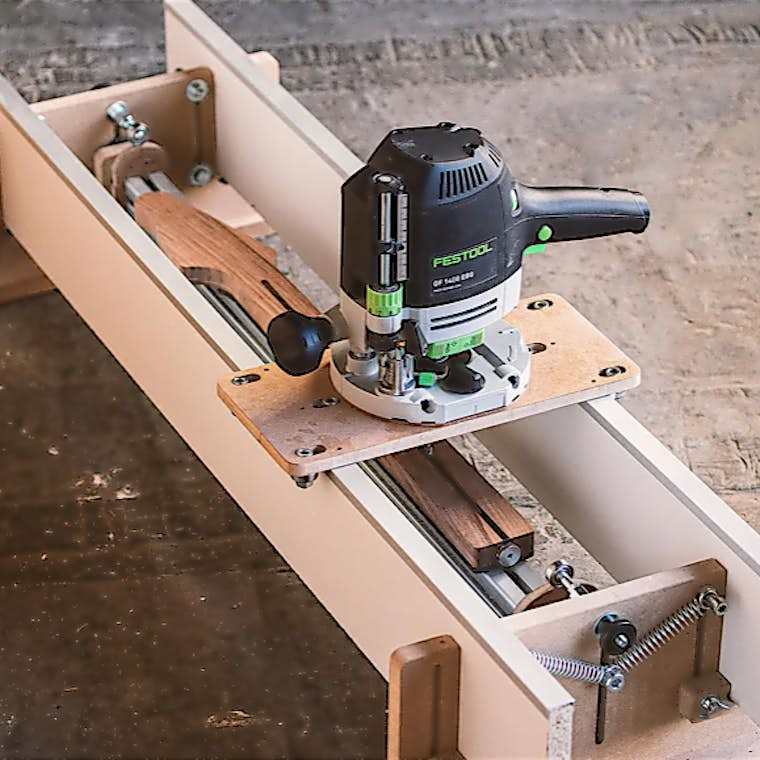 Check out the Hub Project
Check out Christoph's interpretation of a neck contour jig inspired by an original design from Bill Scheltema. This clever little device not only saves time, but also valuable space in the workshop and helps you achieve perfect and precise results.
Download the files
---
Christoph is certain that Origin will find its way into the workshop of more and more luthiers in the future. "A lot of people say, 'What does a digital router have to do with craftsmanship anymore?' But for me, Origin is a tool that has quite a lot of what I mean by craftsmanship and manual work: its quick adaptability, its precision, its attention to detail—it's all in there for me."